SARE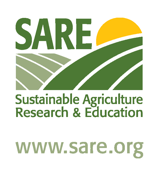 SARE (Sustainable Agriculture Research and Education Program)
is supported by the United States Department of Agriculture. The program provides funding to farmers, educators, and agricultural research teams to develop and validate innovative farming methods and to disseminate information to farmers and those who support the farming enterprise.
The origins of our flock were supported by a grant from the Southern SARE program (SSARE) to Amy Hayner. Using these funds, Amy developed a stable cross with a low percentage of dairy genetics and the valuable traits of parasite resistance and wool shedding from two "hair" sheep breeds: Katahdin and St. Croix. In 2008, Allen's Creek Farm received a grant (
SSARE_FS08-229.pdf)
from the southern regional SARE program (SSARE) to continue this work. Our grant was used to characterize the genetic diversity in our "hairy-dairy" sheep flock as we increased the percentage of dairy genes in our sheep and to measure traits that will determine their ability to thrive under our management in Virginia.